David Abramson, a 54-year old from Westmount, Quebec came upon the Yukon River Trail
Marathon by accident.  "My friend and I had long been planning to hike the Yukon and finally
agreed a year in advance to go in August 2016.  David learned of our race from a colleague who
runs trails.  
"Do you know that there is a trail marathon up there at that time, which Canadian Running
magazine put in the top ten in Canada?" his friend asked.  The short answer was "no."  David
had never run a trail race, and his last marathon was on pavement…6 years ago.  But David was
intrigued and the idea of running a marathon in Yukon took off.  

David writes, "Before I knew it, I was running (and falling) on trails from Montreal to the
Laurentians (a mountain range north of Montreal)."   The training was going well, but as the
August 7  race date approached, David had a few questions about what he might encounter on
Yukon trails.  
It turned out that as soon as his friends learned that he was coming to the Yukon, reports of bear
attacks from anywhere in North America made their way to his inbox. Undeterred but curious,
David asked, "do many runners bring 'bear protection' like bells or bear spray? Have there been
many encounters with bears in past races?"  Bear encounters are a definite possibility but few
runners carry bear spray.  The chance of encountering a bear is low given that there are 325
runners and 70 volunteers on the course in addition to members of the public who regularly
hike and bike the popular public use trails.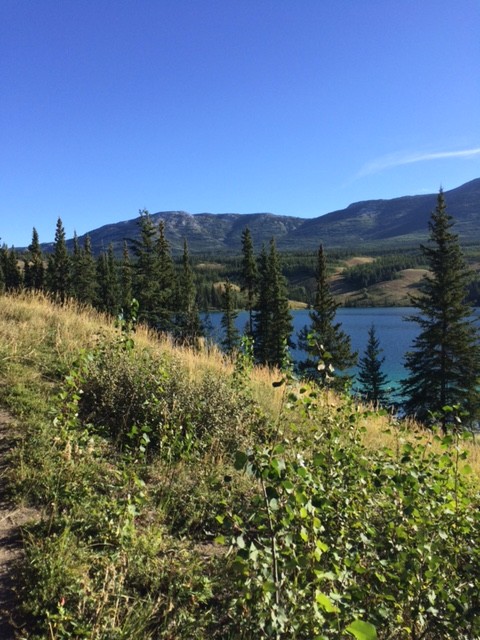 "What about insect control?" David wanted to know.  He was used to deerflies and horseflies on
the Quebec trails, and was relieved to hear that most runners easily outrun Yukon's smaller and
less vicious insects.  
David flew into Whitehorse the day before the race with his daughter Lauren who had
volunteered to assist with the race.  He writes, "being relatively slow and new to trail running, I
chose the 'early departure option." The 7am start is available to marathoners who estimate their
time will be 5.5 hours or longer.   The Yukon River Trail Marathon is a fun but challenging run –
not the race to expect a personal best.   
The downside of electing the early start is that the aid stations are not yet open when you head
out; there are no volunteers on course until 8:00.  The 11 early starters are advised to "stick
together" for the first 8km or so.  David writes, "[t]hat turned out to be fantastic because I spoke
with Joanne  (Van Bibber, a Yukoner) who has run 65 marathons, a couple from Montana who
mainly runs "ultras", a kind volunteer who guided us for the first of four legs of the race, and a
transplanted dog musher from Quebec!"  
"After 8k, it was all trail and I've never seen anything so beautiful. Perhaps jaded Whitehorse
residents are used to a bald eagle quietly sitting at the top of a tree a few metres away, but for me
it was a special moment."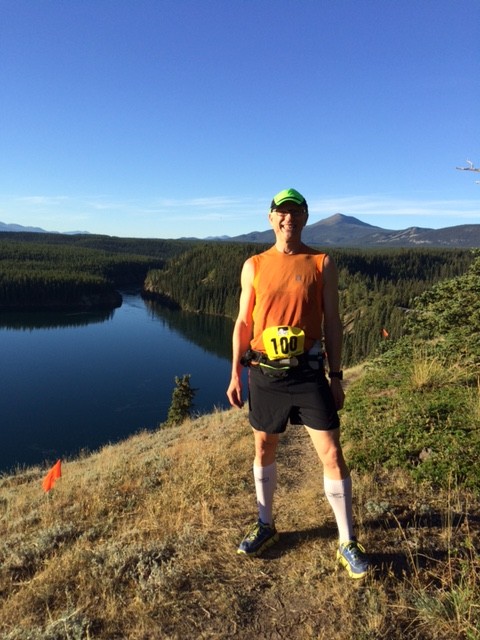 "The early start also meant that I appreciated the bright blue sunny sky, at least until the
temperature surged about 4 hours in.  The heat (an unusual 26*C at noon), combined with the
killer hill in the last 10k tested everyone's resolve."  The hill David refers to is known locally as
the "Dam Hill" due to its proximity to the Whitehorse Dam, but runners know it as the "Damn
Hill."  

 "Another advantage of the 'early start' option was getting passed by the eventual winner, David
Eikelboom, with 13k to go in the marathon…. just as things were getting painful. He politely
asked if he could pass and then effortlessly sped by."  
 
Five hours and 19 minutes later David crossed the finish line with a few cramps and a big smile.
Lauren was at the finish to meet him, and placed the hand-made pottery finisher medal around
his neck.  A 15-minute massage by another transplanted Quebecer, and "a quick dip in the, er,
refreshing Yukon River" soothed his aching legs.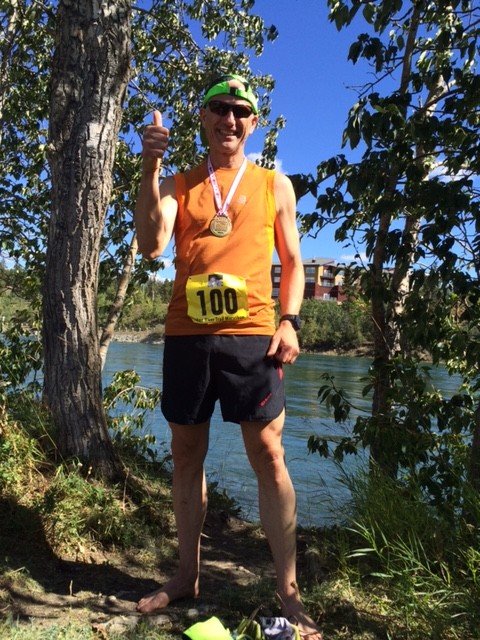 David is spreading the word about the race. "I've told all my running friends to try to do the
Yukon Marathon. It's unique because of both the course and people. Thanks for an experience I
will never forget." 
David finished 1st  in his age category, and 21 st out of 45 marathoners.  
And, in case you are wondering, there was a bear on course around the mid-way mark this year. As in years past, all runners were safe and accounted for by day's end! 
All photos used with permission of David and Lauren Abramson.